Best friends Aki and Haru enjoy their life together accompanied by delicious food in 'Let's Eat Together Aki and Haru'.
Aki and Haru, both college students sharing a room in a house, couldn't be more different in personality and problems. Despite the contrast, there's one thing that never fails to bring them together: the excitement they feel when indulging in delicious food.
WARNING: SPOILER AHEAD. HUNGER MAY ENSUE. Read at your own risk! 
In April, Aki eagerly looks at the house he'll be residing in, while Haru navigates through a busy crowd of clubs looking for new students. Despite an invitation to join the tennis club, Haru declines, emphasizing today is an important day for him. Meeting up with Aki, who's patiently waiting, they enter the house together, finding joy in small details like the gravel outside. Inside, they excitedly unpack, with Aki starting in the kitchen. Haru, skeptical of Aki's cooking skills and pickiness with ingredients, reminds him that they'll be splitting the food expenses, prompting Aki to reassure him. Aki suddenly remembers the low-heated table they own, proposing the idea of enjoying a hot pot on it and getting a futon for it in the winter. He also suggests buying matching mugs and rice bowls. Haru reminds him they still have unpacking to do but a playful tug on Haru's shirt by Aki leads to a lighthearted wrestling match on the floor that only stops when they decide to admire the view in front. Two years later in July, Aki notices something missing in the living room and calls out to Haru who's busy with schoolwork upstairs. Initially ignoring Aki, Haru eventually goes down the stairs because of Aki's annoying shouts. Aki is searching for the headband Haru is currently wearing, so Haru hands it over, mentioning it was in his room. Noticing the untidy space, he cleans up while scolding Aki. Although initially refuses the snacks Aki is offering, the sound of his stomach grumbling causes Aki to playfully tease him. Aki decides to make salt-flavored tomato ramen, and Haru patiently waits for the meal, rushing over as soon as it's ready. They enjoy the food on the table, and Haru, thoroughly enjoying the ramen, compliments the food. Despite sweating and eating hot ramen in the summer, it feels amazing for the two that Haru can't resist finishing his meal immediately. Aki asks if he wants more, but with no more ramen available, he opts to create risotto using the remaining soup, rice, and cheese. They end up sharing the risotto, with Haru assigning cooking duties to Aki while taking charge of the cleanup himself.
At the beach, Haru and Aki enjoy themselves, with Haru capturing pictures of Aki. Their friends, seated on the beach floor, observe them and comment on how close the two have been since high school. Azusa, who once had a crush on Haru, acknowledges that their tight bond leaves no space for anyone else. They all savor the rice balls prepared by Yukino, teasing her about the expedition she did as a groupie for the 2.4D musical stage actor she likes. Back at home, Haru is photographing Aki for his school project, but Aki's awkward posing makes him frustrated. Haru attempts to take photos in a different location and provides guidance, but Aki feels self-conscious under the lens of the camera. Aki wants Haru to give him compliments to boost his confidence, but instead, Haru urges him not to waste time as he's still working on his project. Aki starts sulking and leaves to make dumplings. Haru approaches Aki to apologize and help him with the dumplings. Aki playfully teases Haru for his lack of skill in making the dumpling despite being an art student. Aki then demonstrates the proper technique, and Haru, inspired, begins taking photos. Haru notices the appeal of Aki's hands as he wraps the dumplings and expresses admiration, complimenting him and asking to take more shots, offering to handle the cleanup. At school, Haru's professor reviews the set of photos he took of Aki, praising the snapshots for capturing expressions and moments beautifully. The professor commends Haru for enjoying life, and as Haru reflects on the images, he recalls the time they shared while making and eating dumplings. Haru decides to capture these moments until he graduates.
Aki arrives home from school to find Haru sipping on a melon chuhai, playfully sulking that Haru started without him. They sit down to look at the photos Haru took while Haru enjoys a sundae that Aki made for him. Aki praises him and suggests they celebrate tomorrow by making lots of Haru's favorite dish—fried chicken. Haru eats too quickly and ends up with chocolate on his nose. Aki playfully removes the chocolate and eats it. The following day, Aki heads to the butcher shop to buy chicken for their planned fried chicken party, while Haru is focusing in class. Haru declines an invitation from Mugita to eat ramen, explaining he has plans, and asks about a charger. Azusa interrupts to inform him that the professor is looking for him. Haru gets home later than expected due to his dead phone preventing him from notifying Aki. Discovering Aki asleep on the floor with the untouched food set out, Haru places a blanket over him and apologizes. The next day, they enjoy the fried chicken, with Haru reheating the food and sampling each of Aki's homemade sauces. Haru shares with Aki about becoming a photographer, expressing his gratitude for taking Aki's photos as it helped him discover his passion.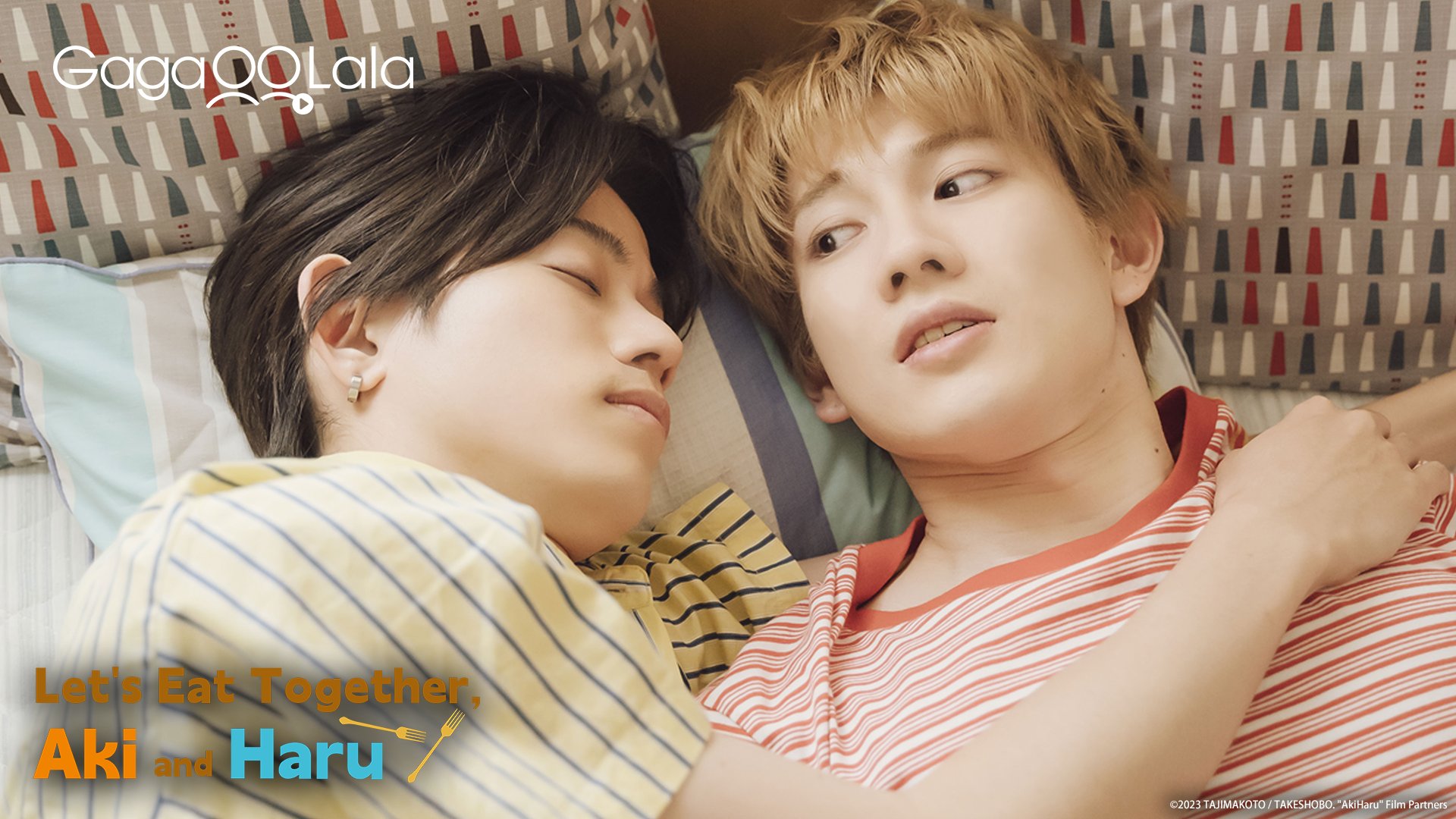 In September, Aki and Haru cook sweet potatoes together after grocery shopping. Aki suggests Haru use his name for a project, but Haru doesn't respond.  Instead, he goes to get the cooked sweet potato. They savor the sweet potato with some salty butter, but Haru's professor calls him, asking for help. Anticipating a late return, Aki decides to eat both sweet potatoes and drown his sorrows with a drink. When Haru arrives home, Aki is already drunk, expressing job-related worries to him. Haru comforts him, helping him up the stairs to his room. Hugging Haru tightly, they both fall asleep together on the same bed. The next morning, Aki wakes up, but Haru, still dreaming of Chief Penguin, pulls him back to bed. Aki hands Haru the plush toy, and Haru immediately returns to sleep. Discovering the design Haru created using his name, Aki smiles warmly. Haru goes down the stairs to find Aki preparing a cheese sandwich as an apology for the last night. They eat the food, and while Haru is looking through his phone to say something to Aki, they are interrupted by the landlord, who arrives to share her homemade plum wine. Haru suggests that it's a suitable drink for anniversaries or celebrations, leading the landlord to propose that they continue drinking together every year until they find jobs and move out of the house. This revelation visibly saddens Aki. Upon returning home with groceries, Aki is surprised to discover a girl in the house, initially misunderstanding her to be Haru's girlfriend. However, Haru clarifies that she is his big sister. They decide to enjoy gyoza cheese dak-galbi and drinks for dinner. Rikka, Haru's sister, reveals that she moved in with her boyfriend and shares the challenges she's facing, claiming she ran away and intends to crash at their place. Rikka praises Aki for his culinary skills, but Aki clarifies that he only cooks because Haru is there, finding enjoyment in watching him eat a lot. They engage in playful banter, and Rikka fondly observes their interaction.
Watch 'Let's Eat Together Aki And Haru' movie on GagaOOLala.