Minato sneaks into Shin's university to return Shin's phone, but Shin's unusual reaction makes him wonder if the younger guy is embarrassed by him.
Shin is openly expressing his love for Minato, but Minato is still adjusting to public displays of affection, particularly as they spend more time together. As for Shuu, having overheard Asuka's announcement, the episode will reveal how this revelation affects Shuu's feelings towards Asuka and what is the real reason why Asuka declared that he's dating someone else.
WARNING: Spoiler alert! Read at your own risk.
Episode 4: Cute Bento
At the laundromat, Shin drops off a homemade bento for Minato, reminding him to stay hydrated. He also packed spare towels, and clothes, subtly attempting to apply sunscreen just in case Minato forgot. Minato assures him of his well-being, prompting Shin to head to the university. When Shin leaves, he takes a moment to admire the bag filled with considerate items that Shin had prepared to support him. At school, Minato is about to open the bento box prepared by Shin when Sakuma approaches him to express his appreciation for agreeing to coach the swimming club again this year. Minato assures him that he will give his best effort, feeling happy to be part of the swimming team once more. As he opens the bento box, he's surprised by its adorable design. Sakuma comments on its cuteness, and Minato explains that the "LOVE" design on the rice signifies his love for rice. Minato and Shin are eating dinner at home when Minato mentions that the design on the bento isn't appropriate because he's just an ordinary person in his thirties. Shin disagrees, playfully calling him a cute thirty-something and insisting that there's nothing embarrassing about enjoying a cute bento. He advises Minato to be straightforward and say that it was made by his beloved Shin. However, Minato remains hesitant, causing Shin to become slightly upset. He declares that he'll stop making cute bentos starting tomorrow. Instead, he requests that Minato repay him by saying he likes him but Minato still finds it hard to do so. Minato tries to escape again, but Shin intercepts him, requesting a hug instead. Shin questions if Minato truly understands how much he likes him so Minato responds with an affirmative nod, but Shin is aware that Minato doesn't fully grasp the extent of his affection and embraces him. He admits just a hug isn't enough and leans in for a kiss. However, they get interrupted by a call from Sakurako, causing Minato to finally release the breath he had been holding. Shin departs to meet Sakurako, who had been in tears during their phone call. As he leaves, Minato's legs give way, his heart unable to handle what had just happened. In the morning, Shin explains that he overslept because he stayed up until 4 a.m. listening to Sakurako's complaints about her boyfriend. He rushes off to university and apologizes to Minato for not making a bento. Minato reassures him and, after he leaves, Minato finds Shin's forgotten phone. While at the Sakuma store, Shuu gets a text from Asuka, asking if they can study together. This triggers Shuu's memory of the time he saw Asuka publicly announcing his relationship with the girl he was with. Asuka sends another message, confessing his feelings for Shuu, which leaves Shuu feeling puzzled once again. Asuka is studying on his own at a cafe, troubled that Shuu isn't responding to his messages when suddenly, Mizuki approaches him to convey her thanks for agreeing to pretend to be her partner—which helped deter harassment from her senior at work. She confirms that everything is going smoothly after and invites Asuka to join her for a meal, but he declines, explaining the need to study. Suddenly, Shuu replies to Asuka's messages, accusing him of being a little liar.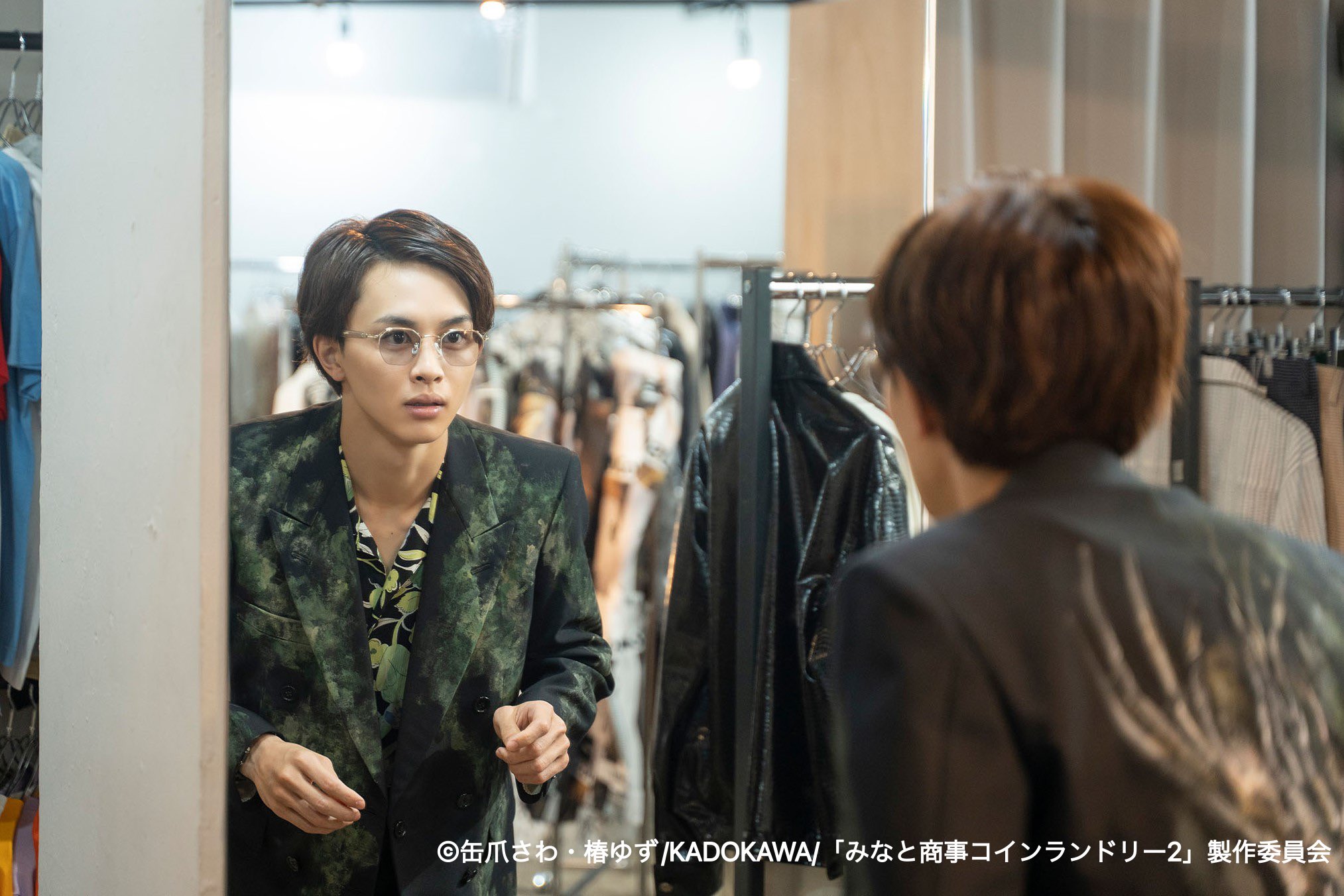 Minato decides to return Shin's phone to his university, using a towel over his head to avoid onlookers. While wandering around, he coincidentally stumbles upon Shin, who gets approached by two girls inviting him to karaoke. Minato discreetly listens in as Shin explains his ongoing classes and the girls request his number. However, Shin truthfully reveals that he forgot his phone for the day. Minato remarks that Shin could be a bit more approachable just as Shin spots him crouching and hiding in the corner. Shin quickly whisks him away to a more secluded spot, asking why he came by himself. Minato explains it's to return Shin's forgotten phone, but Shin suggests that a day without it would have been fine, and there's no need for Minato to deliver it next time. Confused, Minato asks if Shin is angry, but Shin reassures him that he's not. In a rush to make it to his class, Shin departs first and tells Minato against visiting the university anymore. He advises him to ignore anyone who approaches him, leaving Minato feeling even more confused. Minato continues to ponder this even at the swimming club when two students comment on his shirt. He starts to suspect that Shin might have discouraged him from attending school due to his weird attire. He encounters Asuka at the laundromat and starts questioning whether it's embarrassing for someone of Asuka's age to be in a relationship with someone like him. Annoyed by the persistent questioning and also dealing with issues regarding Shuu, Asuka confirms half-heartedly which leaves Minato feeling down, prompting him to leave. At the cram school, Shuu overhears two students discussing cheating, which brings back memories regarding Asuka. As they prepare to leave, Shin inquires why Shuu hasn't been answering Asuka's call. In response, Shuu admits that he's unsure of what to say and proceeds to explain his newfound feelings. Asuka, who had been waiting outside, observes their lively conversation, which stirs up jealousy within him, especially since Shuu hasn't been responding to his messages. At home, Minato flips through a fashion magazine while doing sit-ups, but he quickly hides all the workout equipment under the table when Shin unexpectedly returns home. Noticing his heavy breathing, Shin asks what he's doing, but Minato changes the subject and urges Shin to take a bath since it's ready. The following day, Shin notices Minato sporting a new hairstyle and Minato asks if it looks strange. Shin responds warmly, assuring Minato that he looks adorable regardless of his hairstyle. While on the way to the university, Shin receives a text from Minato, informing him that he'll be running late for dinner. Finding his recent behavior unusual, Shin decides to stop by Asuka's family store to ask if Asuka has any idea why Minato has been acting weird. Asuka initially responds with frustration, claiming not to know. This causes Shin to leave, but Asuka has a change of heart and hurriedly follows after him.