As Jom's body slowly disappears, he and Yai have a heartfelt farewell.
Are Jom and Yai doomed to be star-crossed lovers or will their love transcend through time? Find out in the last episode of 'I Feel You Linger in the Air'!
WARNING: SPOILER AHEAD. Read at your own risk!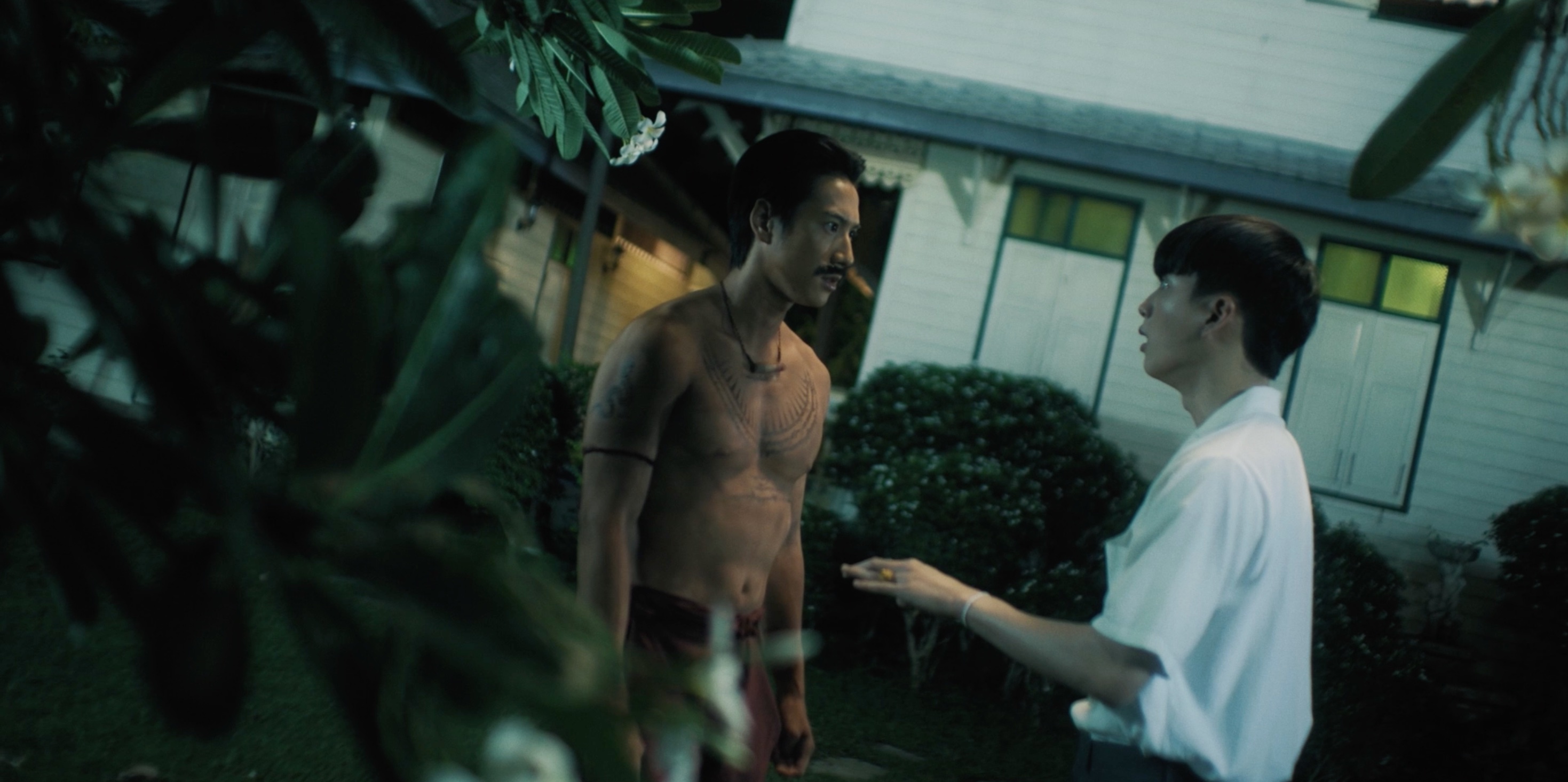 Yai and Jom are digging under the plumeria tree, sensing that something significant lies buried there. Trusting his intuition, Yai seeks Jom's help, and together, they uncover a box containing a ring. Convinced that the ring is meant for Jom, Yai encourages him to try it on. Despite Jom's initial doubts, Yai assures him that he will be with him if anything bad happens. To their surprise, the ring fits perfectly on Jom's ring finger. In a sudden twist, a man identical to Yai appears, reminding him that his heart will always be with him forever. Jom suddenly wakes up with a shout, relieved to find himself in Yai's room. Staring at Yai, who is now awake, Jom remembers and shares the dream with him. Concerned, Yai worries that this version of him may have caused harm, but Jom shares the words spoken by Yai in his dream. Puzzled by the dream's meaning, Jom is troubled so Yai offers him comfort. Following the dream, Yai and Jom decide to investigate the plumeria tree in reality, seeking confirmation of whether something was truly buried there. Jom suspects that his dream might have been influenced by his anxiety. However, their search is interrupted since it's time to bid farewell to Eeang Peung and Maey for their journey to Phranakorn. At the main house, Eeang Peung confirms her decision to leave, acknowledging the difficulty of remaining at their house because of the memories with Robert. Despite his absence, she can't bear to dwell on the past. Assuring her mother that she and Maey would restore the family's old house in Phranakorn, she mentioned the plan of selling items to make some income. Eeang Peung expressed her intention to study politics during this period. While her father is surprised, her mother recognizes that Eeang Peung has made up her mind, leaving her with no room for further persuasion. Eeang Peung's mother requests Maey to take care of her daughter, a request that Maey gladly accepts. Luang feels that whatever the two want to do, just do it, surrendering after everything that happened. He informed them that Chan had prepared the car at the front of the house and requested Eeang Peung to send letters while wishing her luck. His words brought tears to Eeang Peung's eyes, and a sense of joy enveloped the entire house. Yai and Jom bid Eeang Peung and Maey farewell, and both ask each other to take care of themselves. Yai gives them his word that he will take care of Jom, ensuring his safety. Yai asks that Maey take care of his sister for him and Eeang Peung also asks Jom to take care of Yai, feeling a sense of connection between them. As Yai and Jom ascend the stairs, Yai mentions having dinner at the main house to discuss his decision to study overseas. It seems his father may have reconsidered, judging by his reaction to Eeang Peung's departure. Upstairs, Jom notices covered mirrors, and Yai explains it's to spare Jom from seeing his shadow fading away. Yai reassures Jom not to worry about the future and emphasizes his presence, instantly comforting Jom.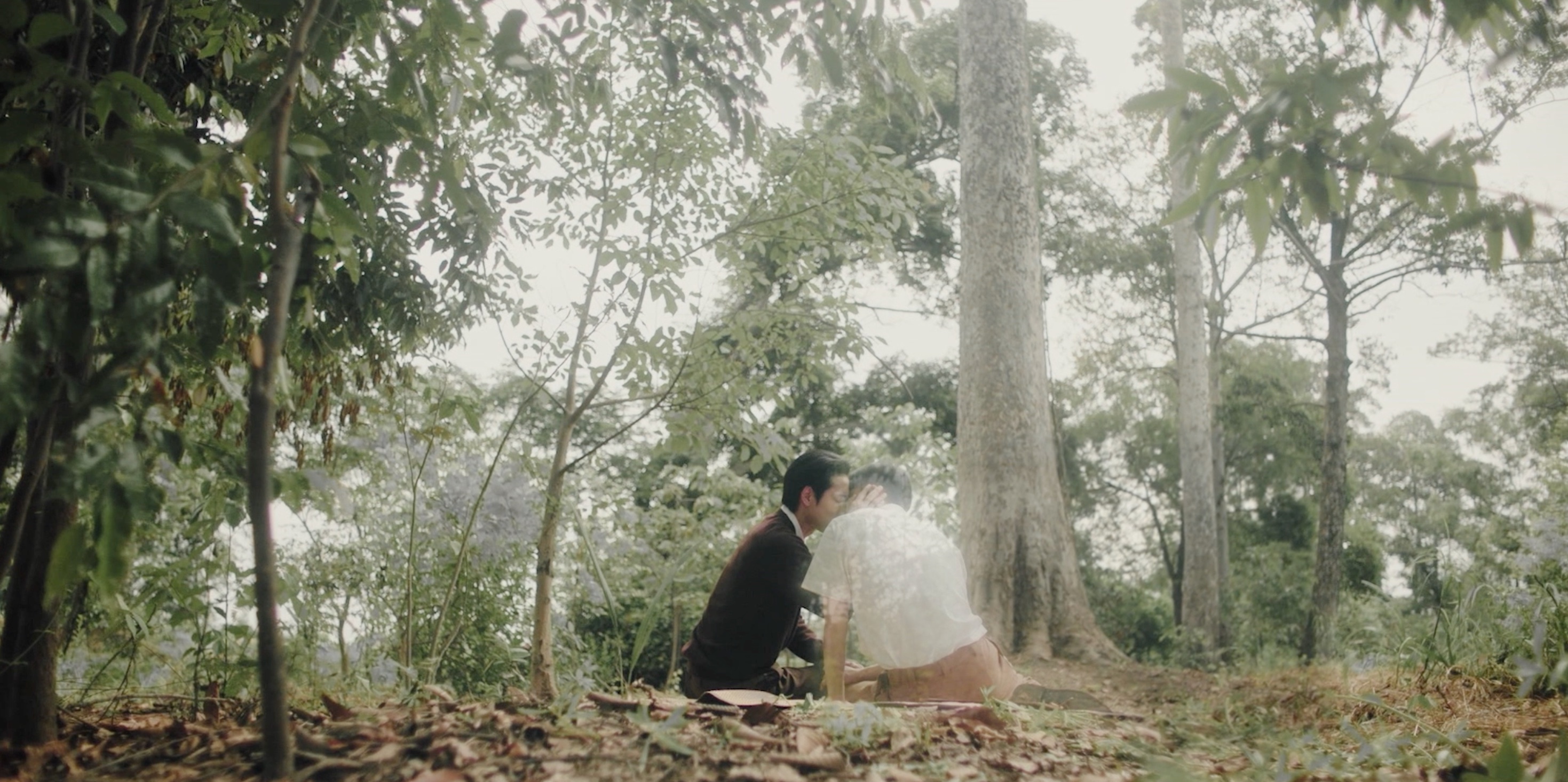 Unable to sleep, Jom briefly uncovers the mirror in Yai's room, staring at his fading reflection. He then heads to the pier alone where Khamsan arrives, distressed by Fong Kaew's sudden departure. She left with a letter explaining her desire for a new life with her mother. Khamsan is confused by her departure despite giving her all his love, leaving him with nothing but his life. Jom comforts Khamsan, advising him to move on and consider that they may not be meant for each other in this life. Jom shares Fong Kaew's situation, urging Khamsan to put himself in her shoes and suggesting that in another life, they might end up together. Yai, noticing Jom's absence from bed, quickly searches for him and finds him downstairs, immediately embracing him. Yai, fearing Jom had left when he woke up alone, tears up and expresses his fear. Jom comforts Yai, who responds with a tender kiss, confessing his love, aware that opportunities for such moments are limited. They share an intimate moment in the bedroom, Yai giving every part of Jom soft kisses. As Yai reminisces about their shared moments, he becomes overwhelmed with emotion and starts to cry. In that moment, they share another bittersweet kiss, holding each other close afterward to find comfort in each other's embrace. The next morning, Yai wakes up in surprise to find Jom almost completely transparent. Jom, equally shocked, examines his form. They head to the forest, searching for the exact location Jom recalled from the sketch in the chest. Yai suggests Jom take a rest beside him, and they share a moment with Jom resting his head on Yai's shoulder. Yai asks if Jom will think of him while abroad, and Jom assures him. Yai opens up about his aspiration to become a judge, and Jom promises to wait for him at the little house until his return. Yai takes Jom's hand, caresses his cheek, and pledges unwavering love no matter the distance or time apart, sealing it with a kiss. Yai suggests drawing a portrait of Jom as a souvenir for his time overseas, positioning him by the tree. As Yai sketches, Jom begins to vanish before him. Jom, fading away, urges Yai to enjoy life to the fullest in his absence. Yai pleads with Jom not to go and to stay with him, but Jom reassures him, reminding Yai of his promise to wait for him at the house of Palathip, and expresses his love. Jom requests Yai to smile as he bids farewell. Seeing Jom in tears, Yai hugs him tightly until Jom gradually fades away in his arms. Yai collapses to the ground, overcome with grief, and cries his heart out.
Watch the UNCUT version of 'I Feel You Linger In The Air' on GagaOOLala.