In the falling snow, 'Ossan's Love -Returns-' is set to premiere on January 05, 2024!
Along with the announcement of the premiere date of the sequel, the new snowy character visuals of all the cast members were released. It has also been decided that all of the regular cast members will return. This series, featuring Haruta, Maki, and Musashi, will be where they navigate the complexities of family, marriage, and unconventional expressions of love, all while involving the people around them.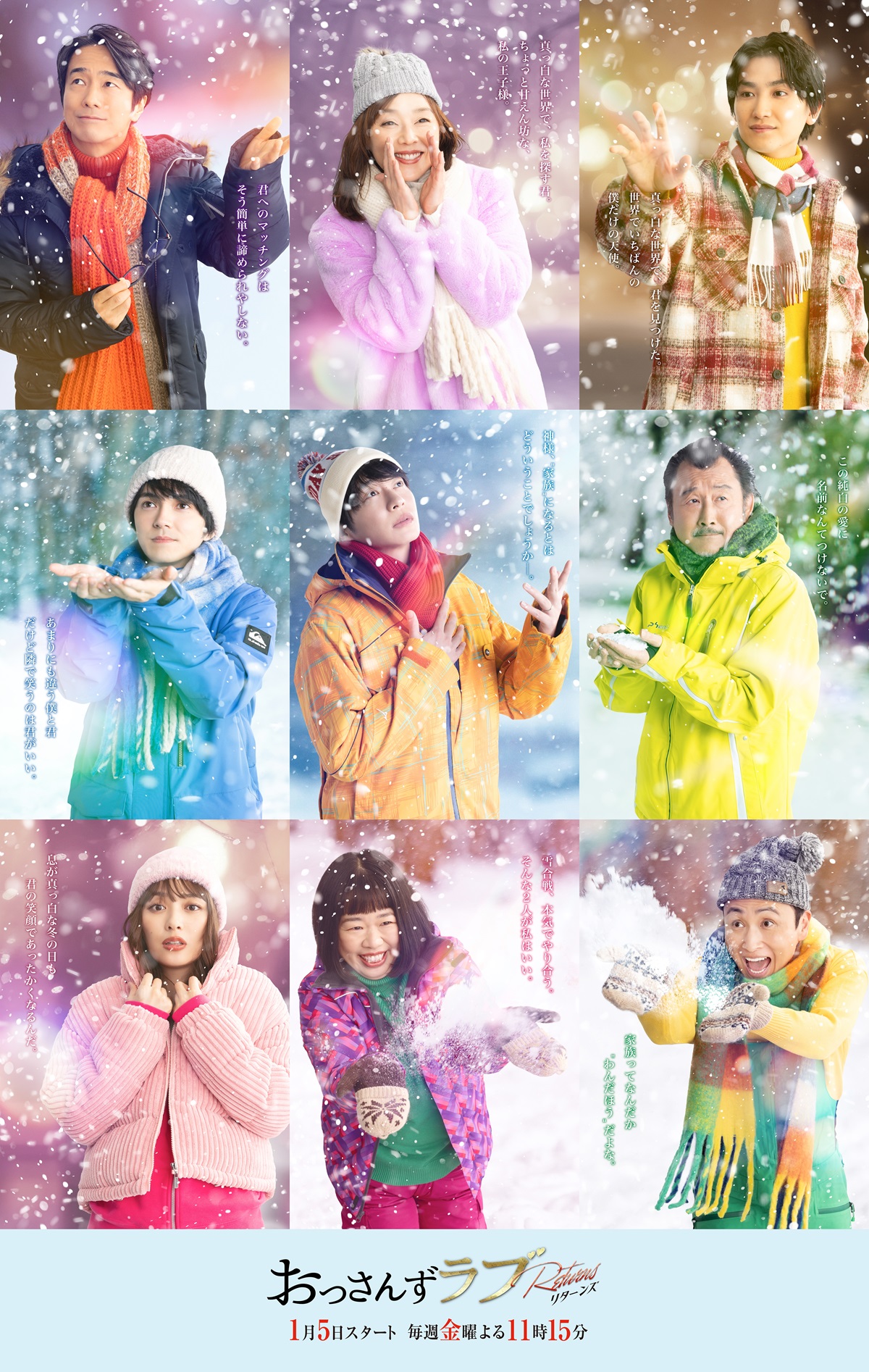 Masamune Takegawa (Hidekazu Majima) struggles in his pursuit of love, feeling lost and anxious about the future. Despite having no marriage plans, he begins to see Maki as the "ideal ex-boyfriend."
Choko Kuribayashi (Nene Otsuka) finds solace in Vietnamese idols to escape the cold war with her stepmother.
Utamaro Kuribayashi (Daichi Kaneko) conquers the age difference and marries Choko Kuribayashi (Nene Otsuka). Currently residing in two households with her mother, Choko grapples with the challenge of a "mother-in-law problem."
Chizu Arai (Rio Uchida) is now a hardworking single mom raising her 3-year-old son after a rapid marriage, childbirth, and quick divorce.
Maika Arai (Shuko Ito) and Teppei Arai (Kazuya Kojima), a married couple blessed with two children, make an appearance as well.
Teppei Arai's (Kazuya Kojima) "Izakaya Wandaho" maintains its quirky menu and songs that struggle to attract customers. Nevertheless, this setting promises to be a lively place where everyone comes together.